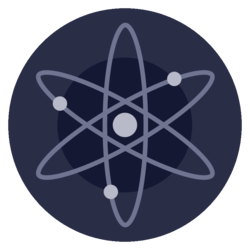 Cosmos Hub (ATOM)
Market cap
$3 218 590 567
฿73 466.00
Volume (24h)
$301 241 358
฿6 877.71
Supply
N/A
292 586 164 (Available)
Manage the events related to Cosmos Hub
Cosmos is a secure & scalable blockchain ecosystem where thousands of dApps interoperate to create the foundation for a new token economy. The network is made of many independent blockchains that utilize Byzantine fault-tolerant (BFT) consensus mechanisms, including Tendermint BFT. (BFT is the feature of a distributed network to reach consensus even when some of the nodes in the network fail to respond or respond with incorrect information.) Each individual blockchain maintains control of its own governance but is interoperable with other blockchains in the network. Blockchains not using BFT algorithms can be connected to the Cosmos network via "adaptor" blockchains.
Trade Crypto on
3 coins to keep an eye on 👀
Subscribe to receive a weekly selection of 3 coins to watch closely, based on upcoming events and technical analysis.